This is a confusing time for many and it seems we are in it for the long haul. There is a plethora of information coming out in this rapidly evolving situation, which can be overwhelming and stressful when you may be worried about loved ones and concerned about your business.
We have curated this page content, and will endeavour to keep it updated with resources as they become available, to help signpost businesses and the wider community to the help and information available. It is not intended as an exhaustive list and we apologise in advance for any broken links due to the rapidly changing support landscape.
If you think we have any glaring omissions, please contact us so that we can review and include the resource if relevant. This page will evolve and we will add to it as we find more resources.
Disclaimer: information is given here solely to provide suggestions that may be informative and useful; the Chamber does not endorse the advice, products or services listed here or in the links provided.
Use the buttons below to navigate to page content sections. Last updated: 29 May 2020
The government have collated all COVID-19 business support into one webpage with a range of guidance and content on financial support and guidance for business including:
funding & support
self-employed people and sole traders
your responsibilities as an employer
how to run your business safely
what businesses should be closed
Whether you are looking for advice as an employer, small business support to support for larger businesses, make sure you check their website for the latest information on all COVID-19 related information as updates are rapidly issued as we enter the next phase in the pandemic.
In May 2020 the government published 'OUR PLAN TO REBUILD: The UK Government's COVID-19 recovery strategy'.
Bank of England COVID-19 news
To follow news from the Bank of England on interest rate decisions and much more, visit their webapge for updates.
Also see the finance section below for more information on loans and banking contacts.
MP Business Clinics
As part of our Webinar series of virtual events, the Chamber is facilitating regular MP Business Clinics to help businesses get the support they need and provide feedback on government measures announced.
If you are struggling to access the business support in place, or have feedback on the schemes in place, then the MPs want to hear from you. Your MPs are there to help and represent your business - never more so than right now, so join the Clinics held at 1 - 2pm Friday for as long as necessary.
Click on the image below to be taken to the Eventbrite page to book the Clinics with Selaine Saxby, MP for North Devon & Geoffrey Cox, MP for Torridge & West Devon, along with members of their team. Please note we will announce on social media which MP(s) are attending each Clinic.
CONFUSED BY THE SUPPORT? START HERE
The government have launched a support finder tool to help you find the support you need quickly and easily for self-employed and company business owners. A really good starting point for those who are feeling overwhelmed by circumstances and not sure where to start with the support scheme announcements. Click the button below to visit the support finder:
ACAS advice
ACAS COVID-19 advice to employers on social distancing and a range of employee considerations such as sick pay, sick leave, good practice steps and much more.
BEIS helpline
The Department for Business, Energy & Industrial Strategy have set up a support helpline for COVID-19 which can be contacted on 0300 456 3565.
Can you help the COVID-19 response?
Infrastructure
Western Power Distribution have issued a message from their CEO with contact details for further information.
BT have issued statements on their network & coronavirus and keeping everyone connected which confirms their network infrastructure is coping with increased demand, with redundancy covering further increases if required.
Many telephone and broadband providers are removing limits or capping add-on charges to enable people to stay connected through telephone calls, along with working and learning from home, so check with your provider.
HMRC time to pay & VAT deferral
If your business has been affected by coronovirus and you need time to pay your VAT or tax, the you can contact the HMRC Helpline on 0800 0159 559. For more information visit their website.

HMRC have announced you can defer your VAT payments with immediate effect for the period 20 March to 30 June 2020 for all VAT Registered businesses. Make sure you cancel your Direct Debit in enough time to prevent HMRC automatically attempting payment collection on receipt of your VAT Return.
Business Bounce Back Loans - launch 4/5/20
The government has announced the Bounce Back Loan scheme, which opens for applications on 4 May 2020.
Help for small and medium-sized businesses to borrow between £2,000 and £50,000
The government guarantees 100% of the loan and there won't be any fees or interest to pay for the first 12 months
Loan terms will be up to 6 years
No repayments will be due during the first 12 months
The government will work with lenders to agree a low rate of interest for the remaining period of the loan
The scheme will be delivered through a network of accredited lenders.
Click on the image below to find out more from the government website (or ask your financial provider for details).
Coronavirus Business Interruption Loan Scheme (CBILS)
The government announced a new temporary loan scheme CBILS along with other types of finance to support business access to bank lending and overdrafts. Businesses can access the first 6 months of that finance interest free. Now available through an extended list of accredited lenders and partners, so you find your finance type and provider of preference.
Business banking support
Barclays have launched a business support helpline from 8am - 8pm on 08001971086. You can also access support as business, personal and corporate customers on their webpage.
Lloyds have a COVID-19 (Coronavirus) Supporting Small Business webpage with details of support available and contact details.
NatWest have launched their Coronavirus support hub. You can also contact your relationship manager or their helpline on 0345 711 4477.
Check with your own banking provider for details to see what COVID-19 support measures they have put in place.
Considering finance
Given that demand for assistance from the banking sector and access to funding has never been higher at this time, Chamber Director Simon Pollard, a Business Banking Manager, has collated some resources to demonstrate the level of information required, to help businesses be prepared in asking for support from financial providers at this stressful time.
Business Debtline
Run by registered charity National Debtline, the Business Debtline number is 0800 197 6026 or you can webchat with them on their website and find a range of advice and tools.
Coronavirus Job Retention Scheme
Employers can claim for 80% of employee's wages plus any employer National Insurance and pension contributions, if employees have been furloughed because of coronavirus (COVID-19). The scheme opened on 20 April so visit the guidance webpage for more details.
HMRC are running webinars on this scheme, however attendee numbers are severely restricted and fill faster than most people are able to respond. HMRC have made a recorded webinar available on their YouTube channel which can be seen below.
Companies House
Companies House have Coronavirus Guidance for customers, employees and suppliers for the latest updates and information, including for business:
Thomas Westcott business insights
Chartered accountants, Thomas Westcott, publish regular Insights, many of which are explaining government announcements in relation to COVID-19.
Business Associates - Wollens Law
Insurance cover
Members Isca Barum report that many businesses are relying on an insurance claim to support them through these uncertain times.
However sadly this may not be the case, so to offer some clarity they have shared this link from the Association of British Insurers are concerned that business cover may not be sufficient in the case of COVID-19. In this Q&A they share what to look for for not only in business insurance, but a range of insurance products and pensions & investments.
Isca Barum also have their own blog to offer more information after the announcement on 17 March that COVID-19 is classified as a 'Notifiable Disease' by the government and a blog from their parent company Aston Lark.
Chamber events
The Chamber is moving to online events in order to continue to support member and non-member businesses across Northern Devon.
We will be running two styles of events:
webinars - information events with opportunity to ask questions of experts on a variety of topics (including support on trading through COVID-19)
meetups - these will be an online networking style to make sure business owners or employees can still connect within the business community to reduce isolation and help keep businesses trading
These will be held on zoom, an online meeting software that is cross-platform and available across smartphone, tablet, laptop and desktop devices. Full details will be provided to those booking meetings. Of course for those who do not want to join the online events, they can still contact us direct for support.
Make sure you are following our Eventbrite page for notifications of when events are announced.

Local Authority COVID-19 business support
South West Business Council COVID-19 Taskforce
The Chamber is part of the recently launched COVID-19 Taskforce in response to the challenges facing businesses to help mitigate the impact. In recognition of our COVID-19 Response support measures, it means that businesses will be signposted to us for assistance. To read more click on the image below:
The HotSWLEP Growth Hub has a COVID-19 business guidance page, whilst it may contain similar resources to our page, you may find other items of relevance to your business.
Digital Skills Partnership factsheet
The Heart of the South West Digital Skills Partnership (DSP) have also put together an iterative resource sheet on digital skills and tech which you can download from the link below
PPE for Health & Care Sector
Education & Childcare
The government have released guidance for schools, childcare providers, colleges and local authorities in England on maintaining educational provision after schools across the UK close Friday 20 March 2020, including information on Key Worker for those whose work is critical to the COVID-19 response, or working in one of the critical sectors.
Construction
There has been much confusion in the Construction sector remaining open. Alok Sharma, Secretary of State, Department for Business, Energy & Industrial Strategy issued an open letter on 31 March 2020 to the Construction industry stating they can continue to work, even if that requires travelling to site.
The industry has worked to develop Site Operating Procedures (SOP), published by the Construction Leadership Council. The SOP aligns with the latest guidance from Public Health England and will be updated, to reflect any changes.
Hospitality
The impact on food & drink industry has been much discussed and as of Friday 20 March 2020 they have been asked to close, with a range of other businesses that enable social gathering, unless they are able to offer a takeaway option.
Convert to takeaway
The government has published advice for restaurants and bars who are able to convert from an eat in to a takeaway service will not require planning consent at this time. You can read the full advice here.
Manufacturers
Please visit the NDMA website for the latest updates relevant to the manufacturing sector, including updates from MAKE UK.
Pay it forward Campaign
Crowdfunder have set up their #PayItForward campaign with Enterprise Nation where businesses can set up on their platform for customers to pledge for products services when they are able to visit in person. Crowdfunder are waiving their fees for this service in a bid to assist businesses.
Headspace for everyone
Concerns for wellbeing are paramount during this pandemic, Headspace have made resources from their Weathering the Storm section available to everyone free of charge. With meditation, sleep and movement exercises to guide you through available both on their website and their app.
BT Skills for Tomorrow
BT have a series of free Digital Skills webinars on a range of topics starting 9 April 2020, so why not brush up on your skills or learn something new if you have some time on your hands.
Online meeting tech for remote working
Zoom provide online meeting software which is free to use at entry level, which enables 1-2-1 meetings of any length, or meetings of 3+ people limited to 40 minutes. They also offer unlimited meetings and increased functionality with paid subscriptions. Watch the video below to ensure you are setting up your zoom meetings securely.
Remote working
For those who are well versed in remote working, you will have appropriate support in place, but those who are new to it may find the experience of working at home very different to the structure of an office.
Things to consider:
wellbeing - ensure you have regular checkins with remote staff
flexibility - with whole families at home, the normal 9-5 may not always be possible
online safety - make sure staff are aware & adhering to policies (see cyber security below)
Wollens Law have made a homeworking policy template available as a free download.
Also take a listen to the Tech South West Tribe Tech podcast released this week about coronavirus.
Don't suffer in silence
We have the opportunity to feedback, through a direct route to government, any challenges or omissions with the support measures being brought forward. If you have concerns, please do use our online meetings to express them, or contact us to discuss on a confidential basis (we can pass on feedback confidentially if required).
They may be issues unique to your industry or business, or you may be able to add your voice to the crowd to make change happen, but it is essential that our voice is heard and we can only do that with your communication with us.
We can't meet up in person, but we can invite you to our online meetings or if you need a 1-2-1 session, please contact us, we are here to actually listen.
Working together
This is the time to come together and ensure we are working collaboratively. If you are able to share your skills or resources with another business, then please do help out where you can.
If you want to share news of your own business, please contact us to be included in the COVID-19 News category of our blog.
Support in the wider community - we are all human in business, with concerns for family & friends, to keeping children occupied whilst they are home for a prolonged period (especially if you are working from home too).
Most of all it is important to #BeKind. Please avoid panic buying, the supermarkets are reassuring us that there is plenty of food if people buy sensibly and shop later in the day to avoid creating crowds first thing in the morning that make social distancing more challenging.
Finally be responsible - ensure you follow advice.
Local Authorities COVID-19 support
North Devon Council have a range of resources on their website, from community and voluntary resources, updates on their own services, NHS advice and more. They also have a useful warning on the increase in scams which can be found here.
Torridge District Council also have a range of advice on their website on business grants, community support, council services and more.
Devon County Council a wealth of information can be found in their coronavirus hub.
Government advice for employees
STEM Learning
STEM Learning, an organisation that supports science, technology, engineering and maths (STEM) education in schools and colleges with STEM Ambassadors (volunteers from business and industry) are offering a range of fun, hands-on activities for families to use at home, suitable for all ages from 4-16. With videos and downloads to support homeschooling and more resources added each week, there is a wealth of information to keep learning fun.
If you're happy to share pictures of your STEM activities with images of your family on social, tag @STEMLearningUK and @STEMHub_SWest, using the hashtag #STEMathome for a shoutout!
Things to do
The BBC has announced schedule changes with more content to keep people informed and support education, culture, fitness, religion and recipes for those at home.
Check other channels, streaming services, catchup tv, podcasts etc too for content.
Check with museums, attractions etc as many are posting on their social media accounts, youtube channels etc, like the National Marine Aquarium, Plymouth, who have clearly been hoarding their toilet roll tubes for some time with their crafty makes!
Keep hand washing fun, especially for kids
Hand washing will become mundane but you can make it interesting by making your own free poster with the lyrics from your favourite song with Wash Your Lyrics. Go-on, get inventive . . . you know you want to!
Shopping - IMPORTANT NOTE
Please make sure you are not panic buying to allow everyone to get the supplies they need, especially our vulnerable and Key Workers who are supporting the COVID-19 Response. Check with your local supermarkets if you are in this category as many are offering specific shopping times to help you get the products you need.
Buy local if you can from our lovely local producers to support local businesses - many are offering order & pay by phone or web with local delivery.
If you are able to donate or require help, contact North Devon Foodbank for locations.
Volunteering & support for the vulnerable
There are a number of organisations in the community that are collecting information from volunteers, see the OneNorthernDevon website to find your local group. (We are aware that the OneSouthMolton website has only launched recently and is not on the OneNorthernDevon website yet). There are a range of volunteering options, for those who are still able to get out help with food deliveries for example, or those isolating who can offer telephone befriending.
They are also taking details for those identified as vulnerable in the community who need assistance as they have no support of friends or family locally.
PE with Joe
Maybe not just for the children - we could all benefit from making sure we are still active in body as well as mind where we can. For a 30 minute exercise class 9am every Monday to Friday visit The Body Coach on YouTube to watch the livestream or if you miss them, you can watch any of them on catchup!
Innocently funny
Innocent drinks daily twitter musings are often a source of amusement . . . ok we admit there's some sales stuff in there too, but they are doing their best to keep us entertained so kudos to their social media manager!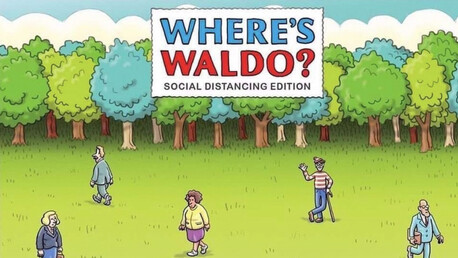 Dogs are getting their own back!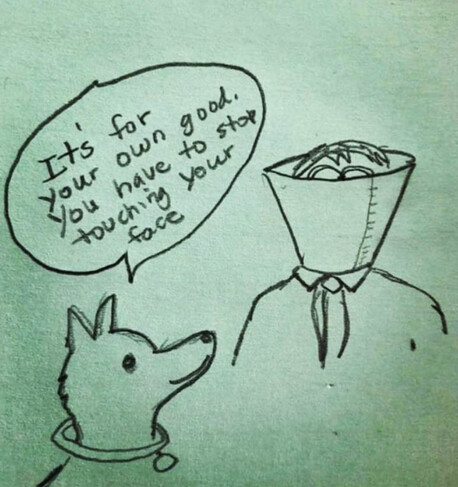 50 Ways to Beat Corona 🎶
From this thread started by @SpillerOfTea (with apologies to Paul Simon!).
Stay in your flat, Pat
Don't visit your nan, Stan
Don't buy all the bread, Ted
Just listen to me.
Don't hop on the bus, Gus
Don't hoard all the cous cous
Leave some bogroll for me, Lee
And maybe some brie.
Don't eat all the meat, Pete
Put down the wine, Vine
Leave me an egg, Greg
And maybe some tea.
. . . (still counting)
Missing sport?
Well so are the commentators it seems, with Andrew Cotter finding sporting options limited, he has resorted to commentating on Olive and Mabel . . . his labradors! "Thinking about getting a cat!"